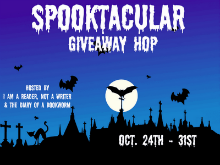 Halloween is my
favorite
time of year. Mostly because it smells really cool. I look forward to meeting some strange and unusual creatures, turning my kids into monsters, and carving the 20 pumpkins from my garden. I also look forward to giving away a freaky book to one of my (international) followers. And that book is WITHER by Lauren DeStephano. The first in the Chemical Garden series. This book was
freaky disturbing
, morbid and my favorite cover image for 2011. And just in case you've already read this, I will provide a second choice which is
Spirited by Leap Books
a ghost anthology of which I am one of 13 writers. I can't go a Halloween without giving one of those away. So,
easy rules
: one entry for any of these: follow my blog, join my
facebook
page, add
SHIFTERS to your goodreads tbr page
. Leave your actions and email in the comments section. Then check out the over
400
other giveaways at
I am a Reader not a Writer
. But most of all - have a
happy Halloween
, and have a nightmare because you've
read something scary.